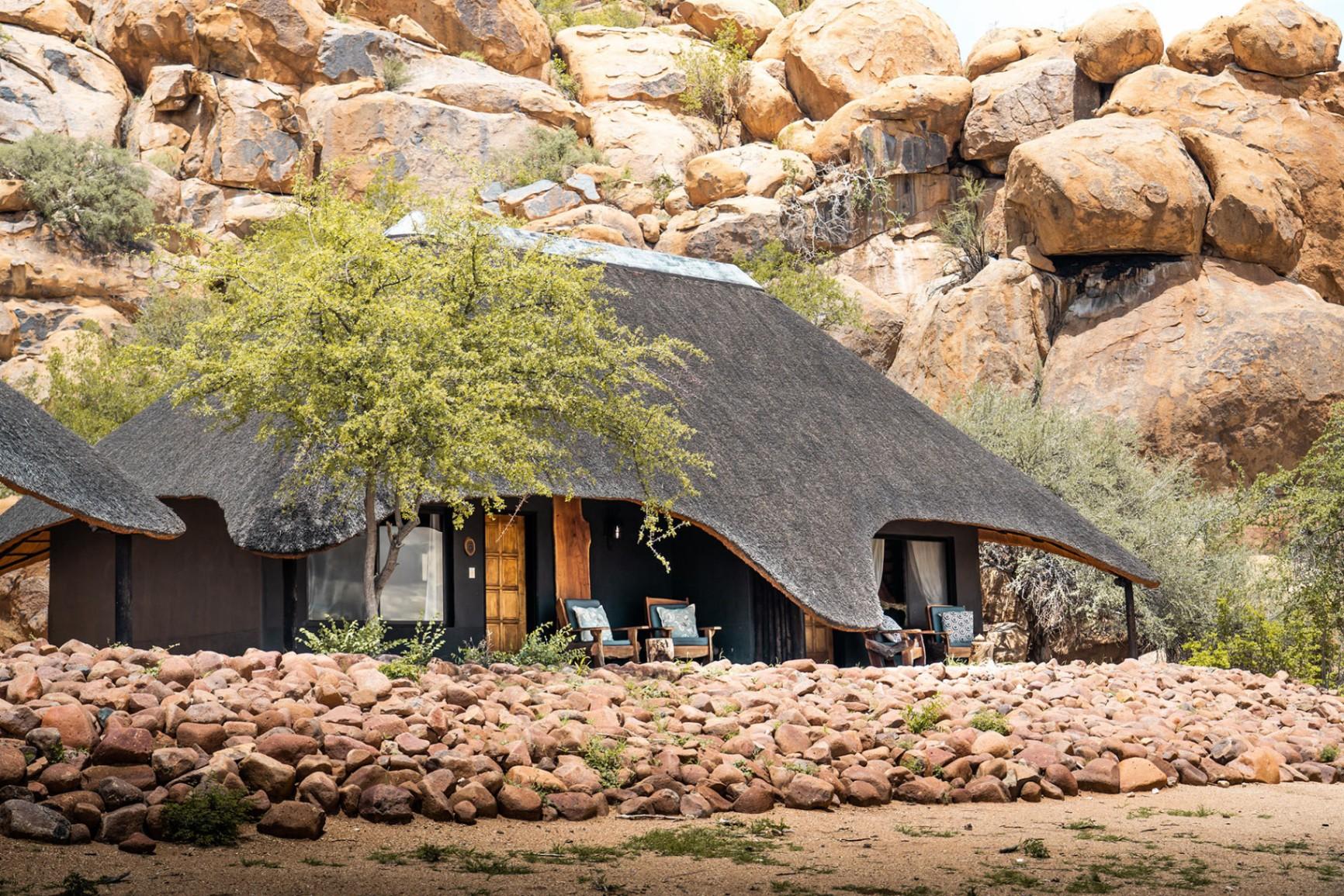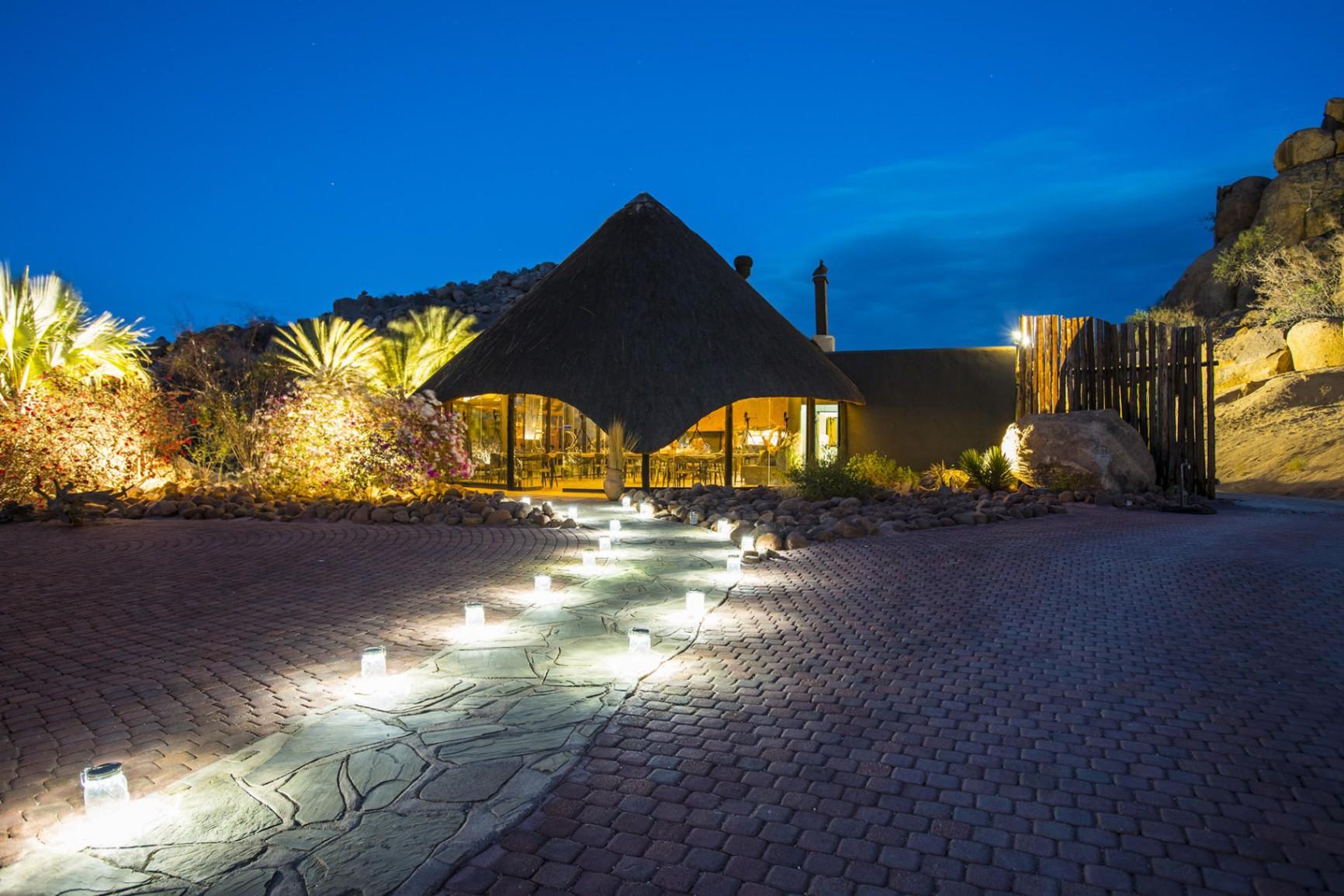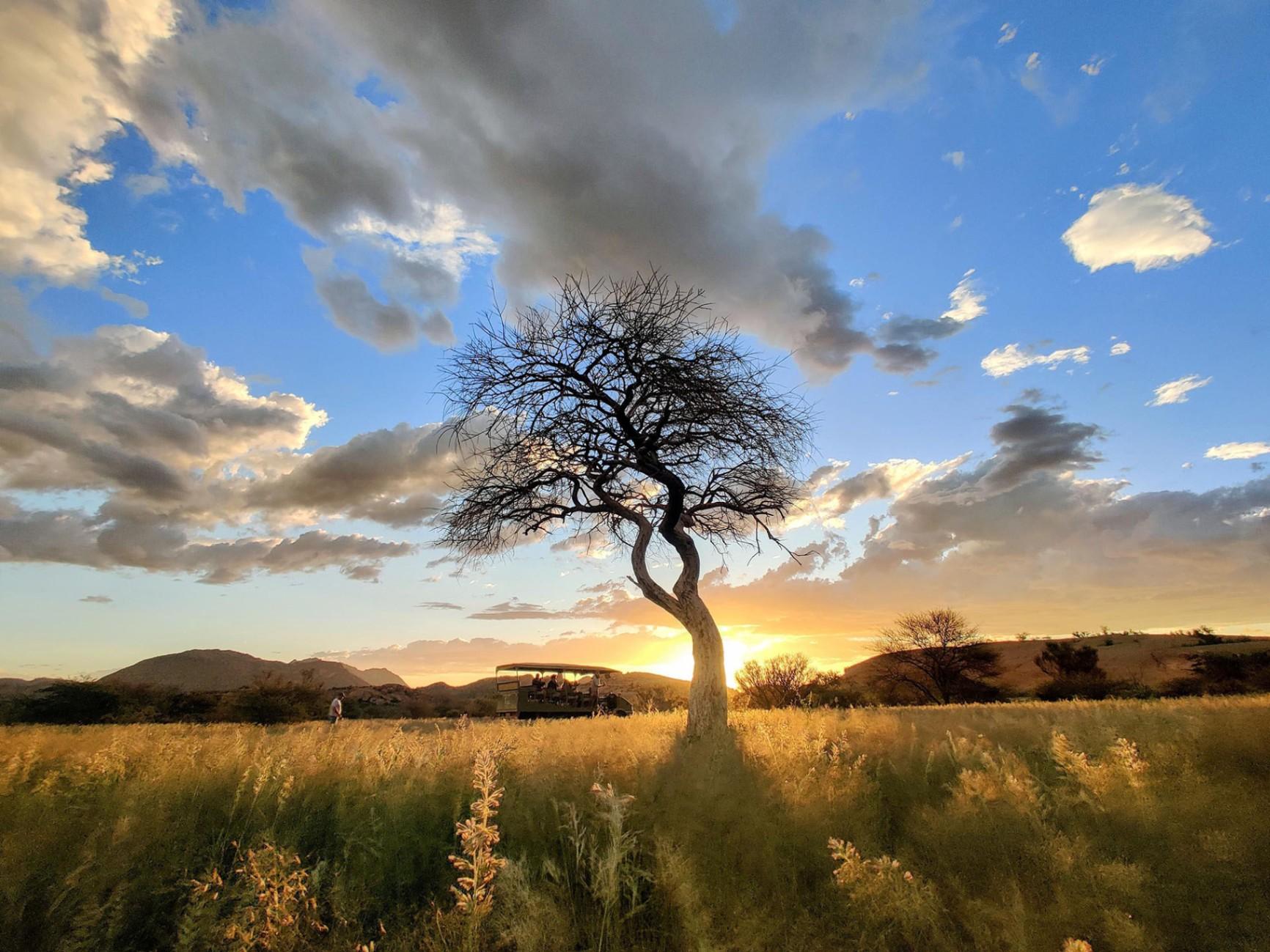 Ai-Aiba -The Rock Painting Lodge is dramatically set against imposing granite boulders in the foothills of the Erongo Mountain range. Steeped in history these ancient rock formations are the eroded remains of a volcanic complex about 130 million years old. Known for its countless rock painting sites Ai-Aiba is a mystical exploration of nature
Accommodation options at Ai Aiba Lodge
Double Chalet

group

Min 1 guest - max guests

Each air-conditioned twin room, with two 3/4 beds, has a small lounge with a tea and coffee station and an electronic safe for valuables. The big bathrooms have…

SHOW MORE

from R 1425 / Per person per night sharing
What's included
The Bed and Breakfast rate includes:
• Accommodation in spacious, airconditioned thatched chalets
• Breakfast: Individual table buffet and a la carte menu
• Afternoon tea, coffee and cake
• Guided Sundowner walk
• Self-guided mountain bike trails (own bicycle required)
How to get there
Walvis Bay International Airport

Ai Aiba Lodge

D2315, 40km from Omaruru Damaraland Namibia

Check in at Ai Aiba Lodge

14:00 on day of arrival

Check out at Ai Aiba Lodge

10:00 on day of departure
R 1,425
/ per person per night sharing
Reviews
Amazing

The hotel is in a wonderful location surrounded by granite boulders but with an open view. We stayed here for one night and we did enjoy everything. The sundowner ride including the visit of some rock paintings was very interesting and we also managed to see some animals

Phenomenal

I have been to Ai Aiba many times over the years and have always loved this place. Since the upgrade it is even better! What the new team under General Manager Coenie are delivering is simply fantastic - well done! Do allow enough time to visit the San (Bushman) people

What an experience!

It is stunning. The room was super comfortable, the food and staff were fantastic and my favourite part of the experience was a nature drive with our guide, Dion. He was knowledgeable and learning about the history of the region and see the rock paintings was incredible. It was magical and I would go back in a heart bea
Ai Aiba Lodge impact highlights
Aiba Lodge is a founding member of The Erongo Mountain Rhino Sanctuary Trust. The Erongo Mountain Rhino Sanctuary Trust is a private nature reserve in the Erongo Region of Namibia. The Erongo Mountain Rhino Sanctuary Trust (EMRST) aims at protecting the indigenous fauna and flora of the region, as well as reintroducing species that were part of the natural biodiversity historically.