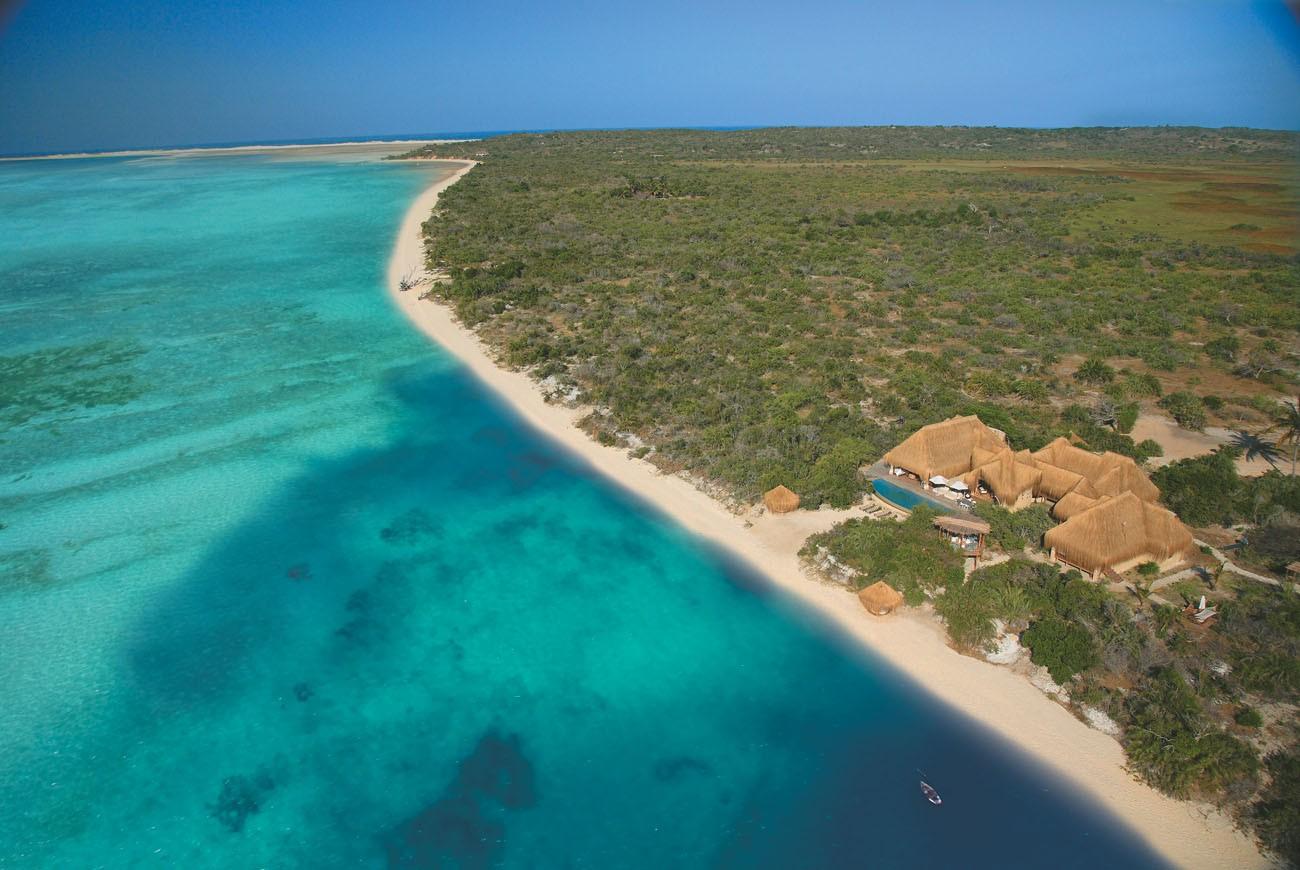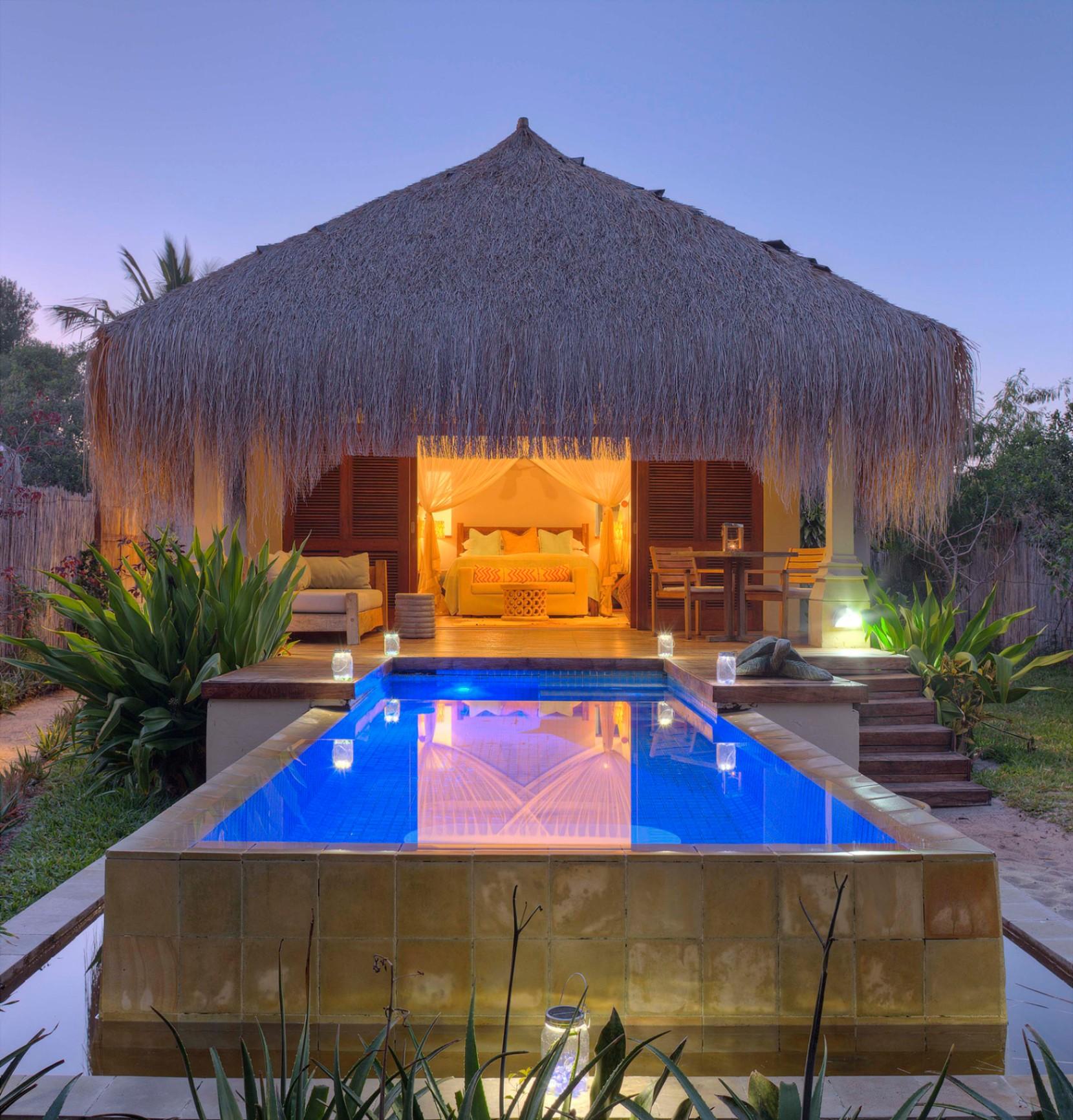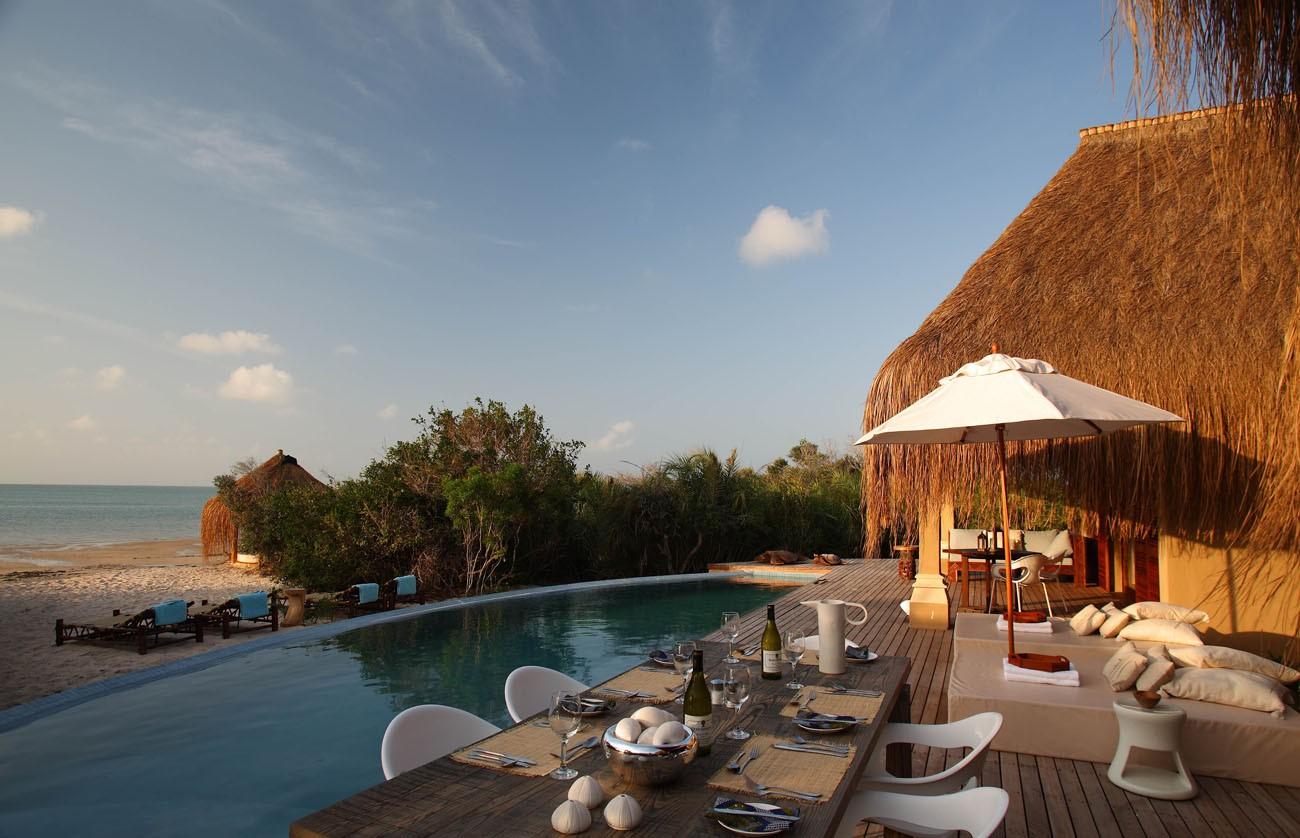 Azura Benguerra, the first environmentally friendly resort in Mozambique. The resort was hand-built by the local community in a Marine National Park and is run in partnership with the community.
The boutique hotel's public areas are situated on the beach and open to the sea, giving guests the most spectacular views of the island. Azura Benguerra is perfect for honeymooners, families and friends. There are numerous spots to relax and unwind and also have fun with friends and family around Azura. There's a very cozy lounge area to sit and relax in, the vibey Star Bar, and their phenomenal wine cellar offering guests a selection of the owner's wines, especially flown in from their Chateau in France. At Azura Benguerra, you choose how you want to spend your time with your people. Azura's Jellyfish Restaurant has breakfast and more formal dining available for the guests. The hotel has a media room for guests who want to watch TV and get internet access, a boutique at reception, and their Padi 5 Star dive center with the best Scubapro equipment.
Accommodation options at Azura Benguerra
Infinity Beach Villa

group

Min 1 guest - max guests

Azura Benguarra has 10 Infinity Beach Villas that are situated with amazing beachfront locations and again are bigger than the previous two beach villas, with…

SHOW MORE

from R 8550 / Per person per night sharing

Royal Beach Villa

group

Min 1 guest - max guests

Azura Benguerra's Royal Beach Villa is the largest of the beach villas, the 2 Royal Beach Villas have a full lounge with sofas and a flat screen TV, a 10m rim f…

SHOW MORE

from R 12000 / Per person per night sharing

Luxury Beach Villa

group

Min 1 guest - max guests

Azura Benguerra has 3 Luxury Beach Villas, positioned a few steps from the beach. The Luxury Beach Villas are a bit bigger than the Beach Villas, however, have …

SHOW MORE

from R 6350 / Per person per night sharing

Beach Villa

group

Min 1 guest - max guests

The Beach Villa is situated at the end of Azura Benguerra but very close to the spa. There are 3 Beach Villas and they are perfectly secluded and ideal for hone…

SHOW MORE

from R 4940 / Per person per night sharing
What's included
The Rate Includes:
• Accommodation in sea-facing villas
• All meals including main beach dinners
• Local beers and spirits, selection of house wines
• Soft drinks, tea & coffee, waters
•A Sunset Cocktail of the day served to Sala
• Use of Peri Peri Beach Club
• Mozambican host service
• WiFi access in public areas and rooms
• Scenic Island drive by Land Rover
• A sunset dhow cruise
• Try scuba session in pool
• Use of snorkeling equipment
• Use of kayaks and paddleboards
• Stargazing
• Various honeymoon special treats
• Various children's activities (see activity sheet)• EVAC medical insurance
How to get there
Maputo Airport

Check in at Azura Benguerra

14:00 on day of arrival

Check out at Azura Benguerra

10:00 on day of departure
Reviews
Mesmerizing Azura

Five days of just rejuvenating in perfect surroundings . Our villa was private , very homely with direct access to the beach . The kindest, most considerate and thoughtful staff. Great Snorkelling at various reefs accessible by boat Wonderful seafood

Magical Island Stay

We celebrated a frien'ds wedding at Azura. The place is lovely and the staff members made our visit even better. The views are breathtaking. We took part in a few activities and we loved it. The guides were so well informed and very caring throughout our activity sessions. The food and and the rooms were also amazing. I loved it there!
Azura Benguerra impact highlights
Dedication to conservation and the community lies at the heart of everything Azura Benguerra does. They are one of the few operations where the community are major stakeholders and contribute to various aspects of the lodge. Their main focus is on the community and the preservation of the pristine environment in which they operate.