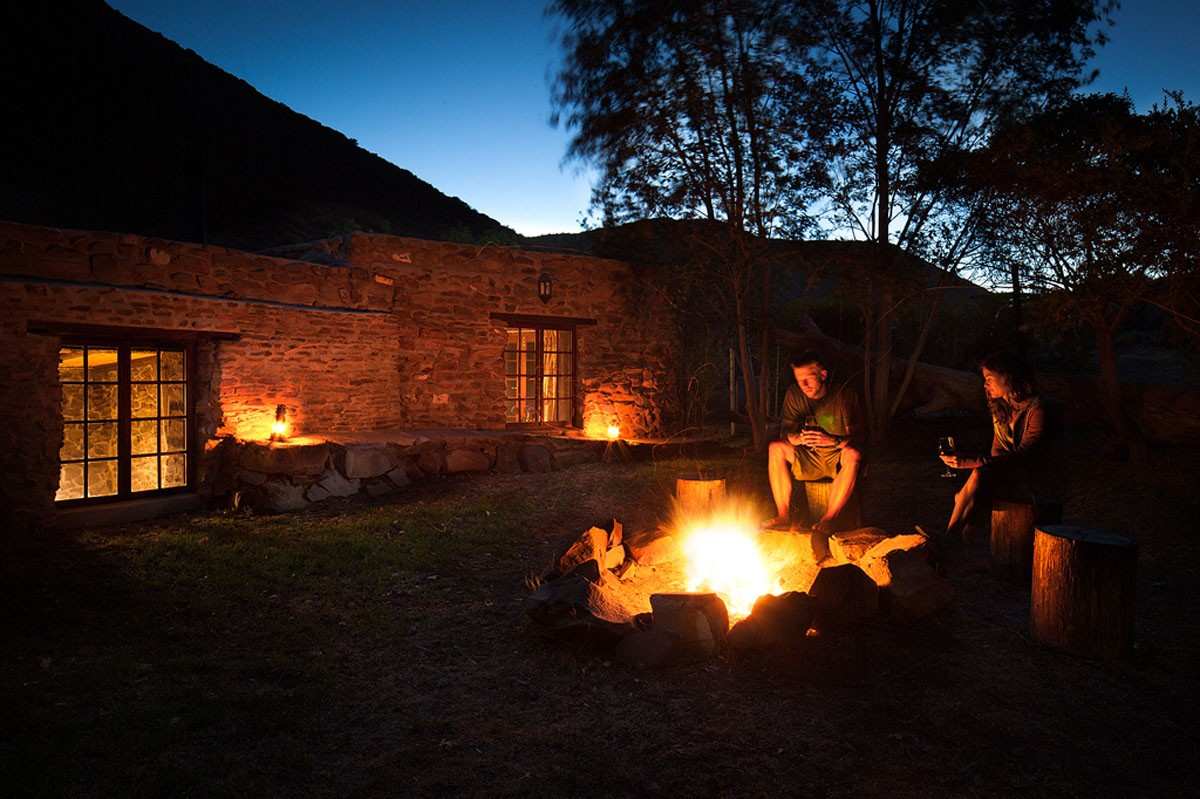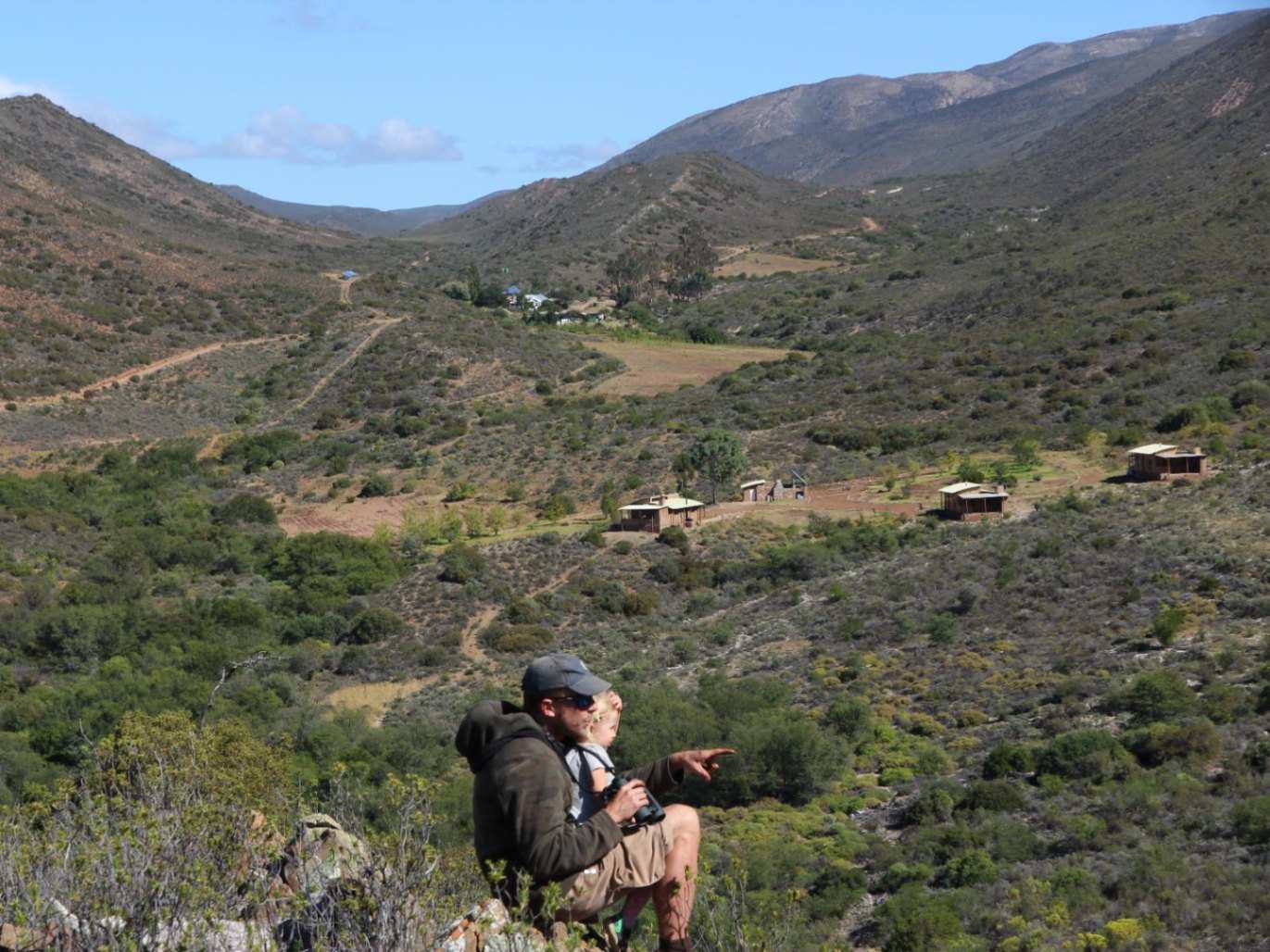 Kingfisher Cottages in Montagu, Western Cape offer charming and comfortable accommodation nestled amidst the scenic beauty of the Klein Karoo region. These cottages are a perfect blend of rustic charm and modern amenities, providing a delightful r…
show more
Accommodation options at Kingfisher Cottages
Pied Kingfisher Eco Cottage

Min 1 guest - max 4 guests

The cottage consists of two bedrooms, featuring a queen bed in the main bedroom and two single beds in the second bedroom. The bathroom is equipped with a spaci…

SHOW MORE

from R 875 / per-person-per-night

Eco-shower & toilet

Fan

Verandah

WiFi

Indoor Fireplace

Hot Tub

Giant Kingfisher Eco Cottage

Min 1 guest - max 4 guests

The cottage offers two bedrooms, featuring a queen bed in the main bedroom and two single beds in the second bedroom. The bathroom is equipped with a spacious s…

SHOW MORE

from R 875 / per-person-per-night-sharing

Eco-shower & toilet

Fan

Verandah

WiFi

Indoor Fireplace

Hot Tub

Malachite Kingfisher Stone Cottage

Min 1 guest - max 4 guests

The Malachite Kingfisher cottage is a charming and characterful self-catering accommodation option, which has been thoughtfully renovated from a 150+ year-old s…

SHOW MORE

from R 875 / per-person-per-night-sharing

Fan

Fridge

Verandah

WiFi

Indoor Fireplace

Hot Tub

Brown-Hooded Kingfisher Eco Cottage

Min 1 guest - max 4 guests

The cottage features two bedrooms, with a queen bed in the main bedroom and two single beds in the second bedroom. The bathroom is equipped with a spacious show…

SHOW MORE

from R 745 / per-person-per-night-sharing

Eco-shower & toilet

Fan

Verandah

WiFi

Indoor Fireplace

Kitchen
What's included
Accommodation: Self-catering
Activities at Kingfisher Cottages
Mountain Biking
more info
Picnic Spots
more info
Swimming
more info
Rock Pool Swimming
more info
Stargazing
more info
Hiking
more info
Farm Tour & Tasting
more info
How to get there
Cape Town International Airport

Kingfisher Cottages

Langhoogte Farm, PO Box 560, Montagu, 6720

Check in at Kingfisher Cottages

14:00 on day of arrival

Check out at Kingfisher Cottages

10:00 on day of departure
Frequently asked questions
Are kids welcome on the farm?
R 875
/ per person per night
Reviews
Lovely and Homely

I'm glad I chose to visit Kingfisher Cottages to experience the beauty of the Klein Karoo. The mountain views are amazing and the cottages were so homely. We truly enjoyed our stay at Kingfisher.

Very Peaceful Place

What a peaceful and amazing farm! We loved every moment of being in Kingfisher Cottages and my kids really enjoyed the walks and picnics. The hosts were also amazing-I would definitely love to visit again.
Kingfisher Cottages impact highlights
Kingfish Cottage is a shining example of sustainable architecture and responsible tourism. Nestled amidst the serene beauty of nature, this eco-conscious retreat showcases a commitment to environmental preservation. The heart of their eco-friendly approach lies in the use of sustainable mudbricks for their cottages. These bricks not only provide excellent insulation but are also made from locally sourced clay, reducing the carbon footprint associated with transportation. Moreover, Kingfish Cottage boasts eco toilets that employ innovative waste management systems, minimizing water usage and promoting nutrient recycling. This harmonious blend of locally sourced materials, mudbrick construction, and eco-conscious facilities not only offers guests a unique and comfortable stay but also exemplifies a conscientious approach towards minimizing environmental impact and preserving the beauty of the land.
Kingfisher Cottages Farm is leading the way in sustainable fish farming practices. With a commitment to environmental stewardship, they have implemented innovative techniques to ensure their fish farming operations are both eco-friendly and economically viable. Through the use of closed-loop aquaculture systems, responsible water management, and the reduction of harmful chemicals and antibiotics, Kingfisher Cottages Farm produces high-quality fish while minimizing its environmental footprint. By prioritizing sustainability, they not only provide customers with delicious, responsibly sourced seafood but also contribute to the long-term health of aquatic ecosystems and the preservation of our planet's natural resources.
The farm is committed to achieving sustainability across all aspects of its farming and operational practices. Their dedication to sustainability is evident in their pursuit of Net Zero Carbon certification and accreditation, their emphasis on utilizing renewable energy sources, their responsible water supply and usage strategies, as well as their initiatives to clear alien species and manage waste effectively. They leave no stone unturned in their efforts to ensure uncompromised sustainability in every aspect of their operations.