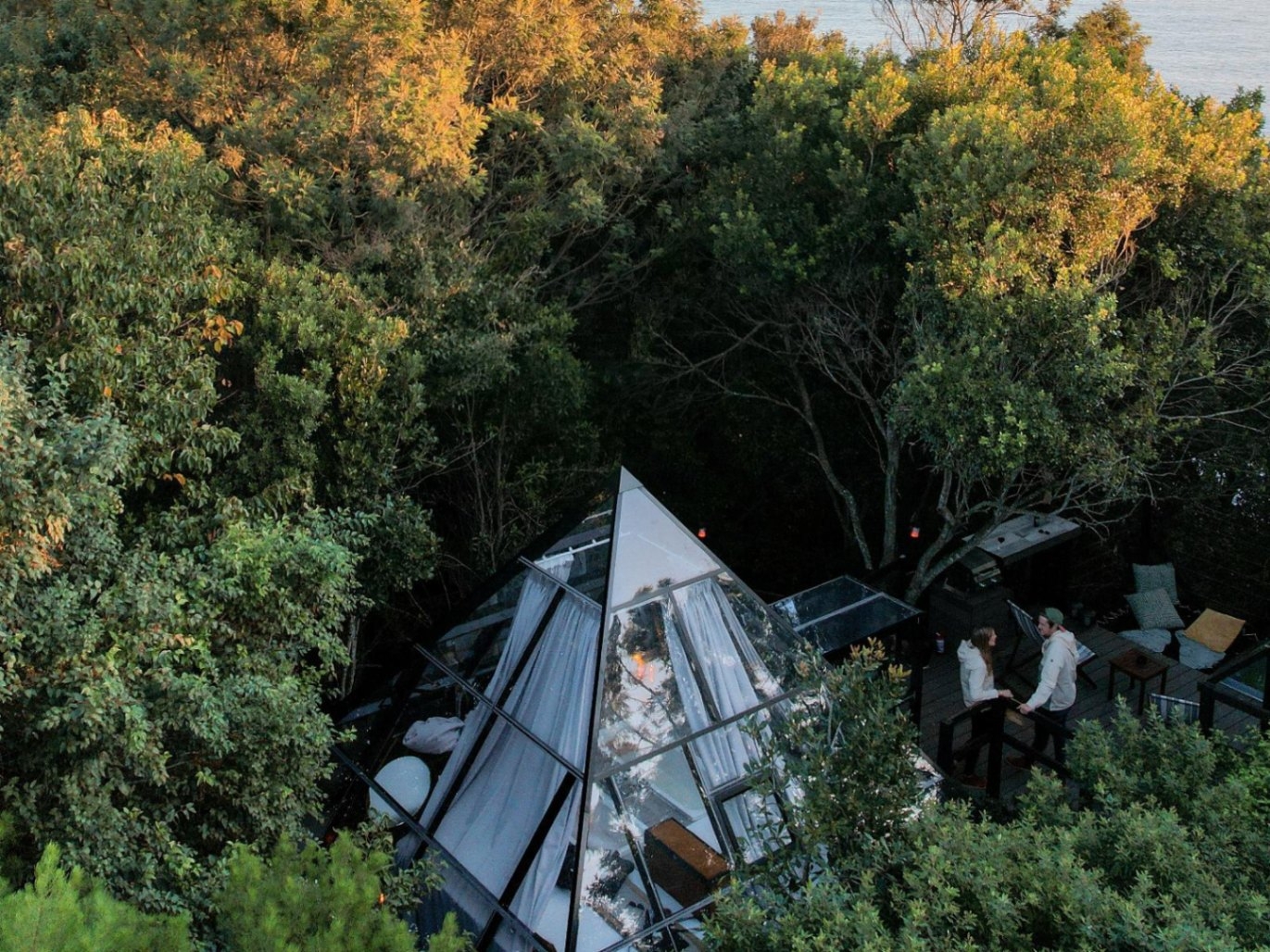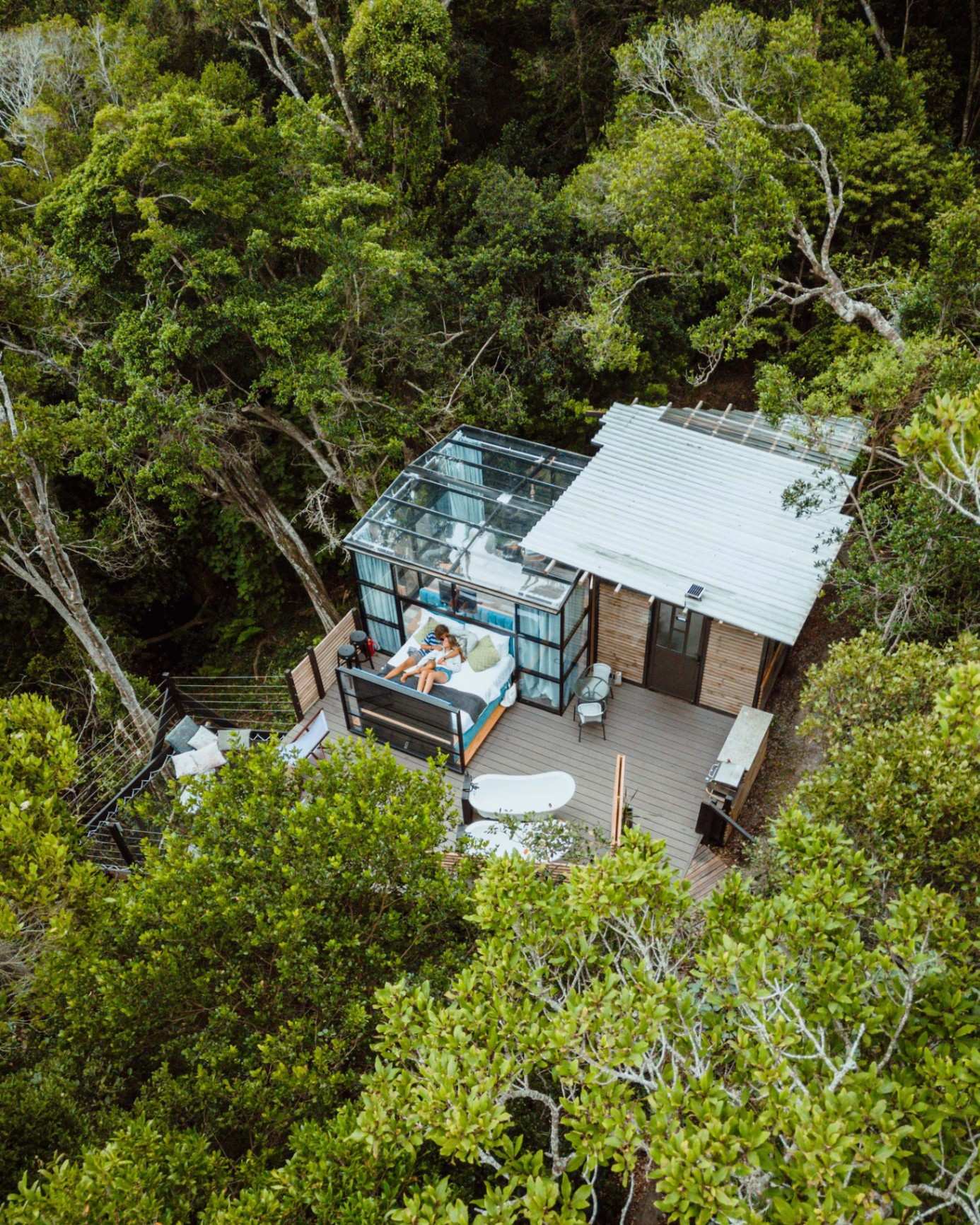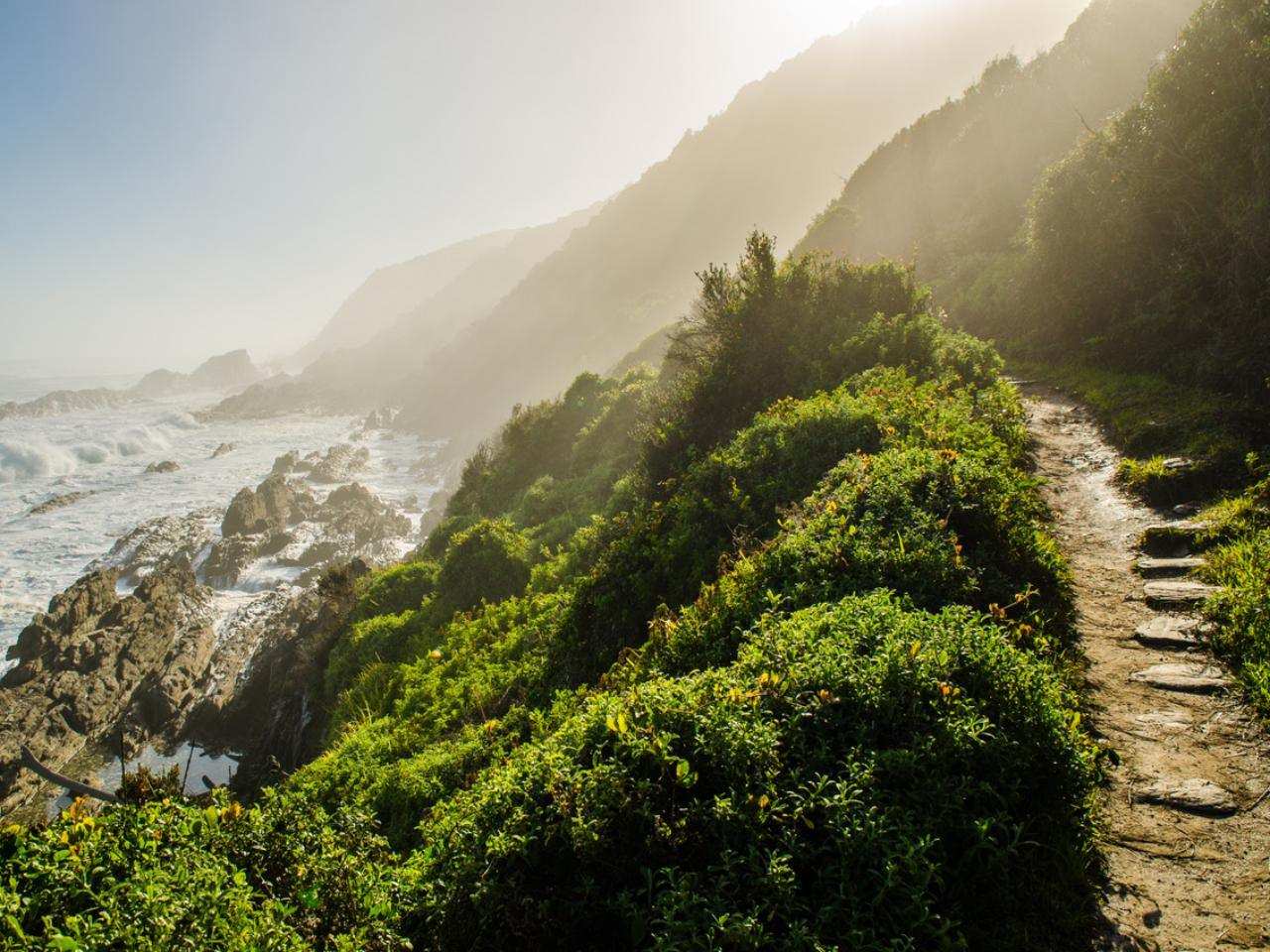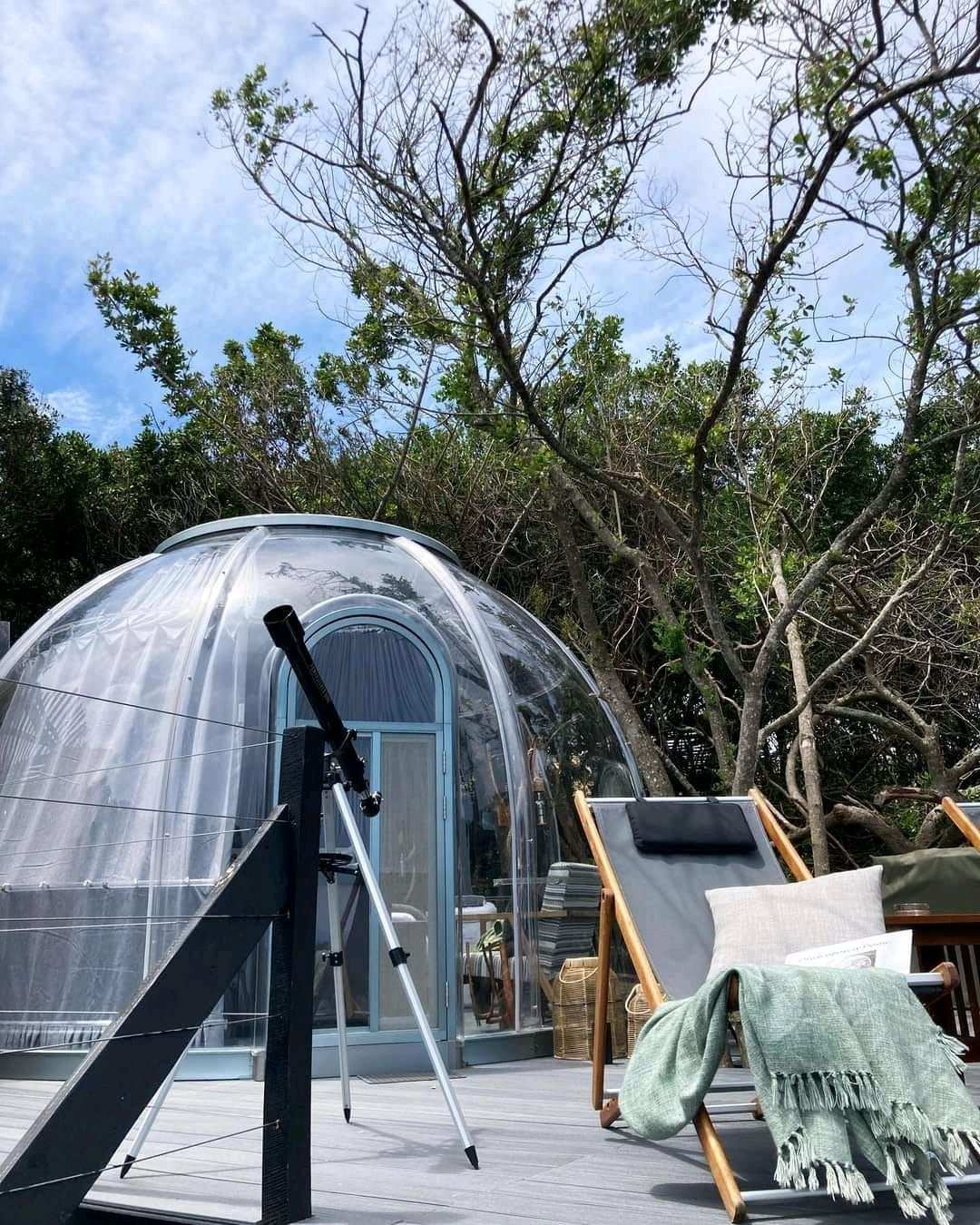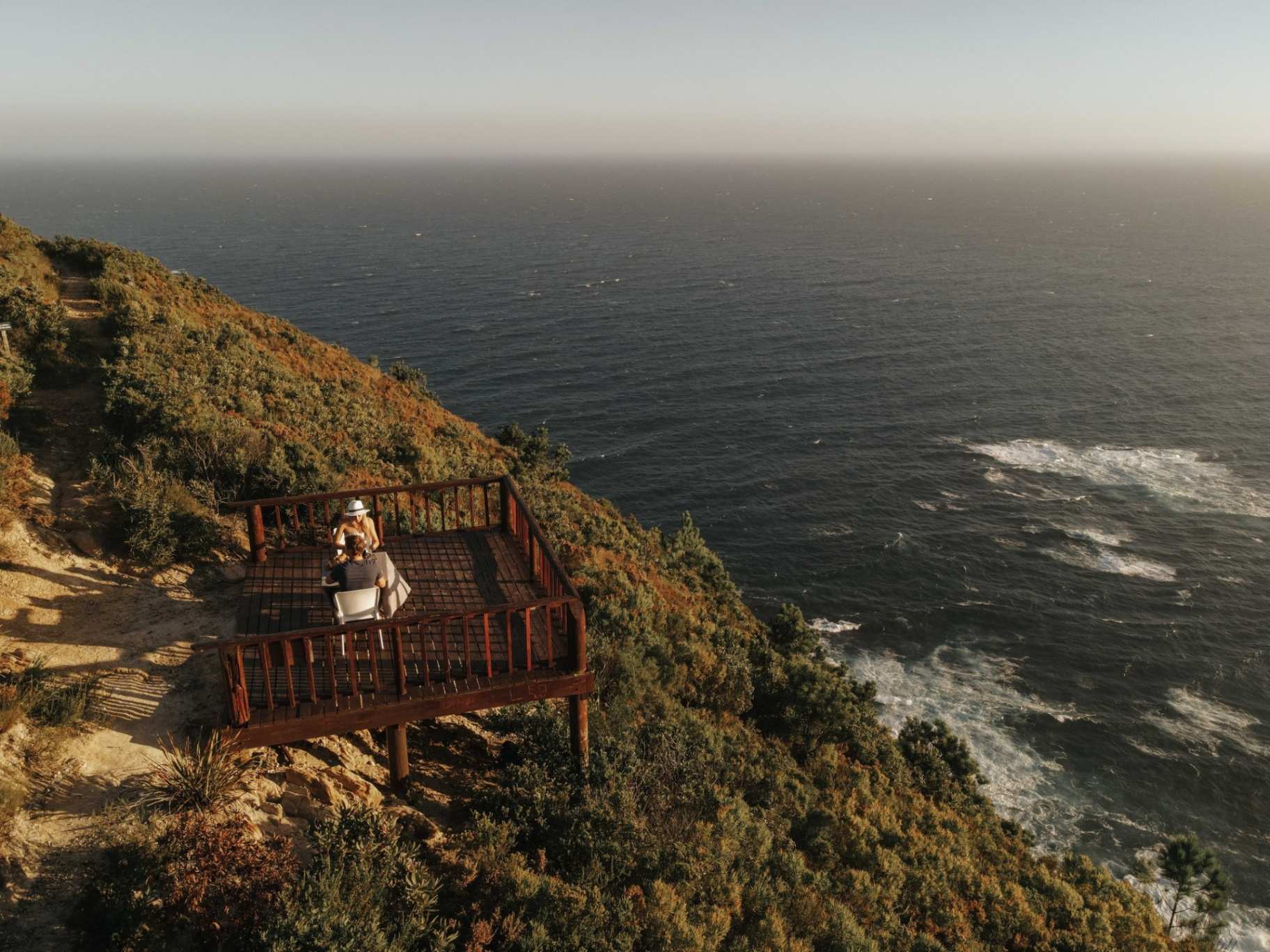 About Misty Mountain Reserve
Misty Mountain Reserve lies perched 230 meters above the rugged Tsitsikamma coastline along the famed Garden Route in the show more
Accommodation options at Misty Mountain Reserve
Ocean View Family Lodge

Min 1 guest - max 4 guests

The Ocean View Family Lodge features two separate bedrooms with comfortable percale linen and en-suite showers that come equipped with eco-friendly amenities. A…

SHOW MORE

from R 7120 / per-accommodation-per-night

Aircon

En-suite bathroom

Safe

Private Deck

Hairdryer

Toiletries

Ocean View Standard Lodge

Min 1 guest - max 2 guests

This charming two-sleeper wooden lodge boasts a spacious open-plan bedroom and lounge. The en-suite bathroom is equipped with a spa bath/shower and eco-friendly…

SHOW MORE

from R 1782 / per-person-per-night-sharing

Aircon

Bath

En-suite bathroom

Braai Area

Hairdryer

Toiletries

Ocean View Self-Catering Lodge

Min 1 guest - max 2 guests

This two-sleeper lodge is strategically situated to maximize the breathtaking scenery. The lodge boasts a spacious and comfortable bedroom, complete with a luxu…

SHOW MORE

from R 1907 / per-person-per-night-sharing

Aircon

Bath

En-suite bathroom

Private Plunge Pool

Verandah

Toiletries

Lake Side Tented Lodge

Min 1 guest - max 2 guests

The two-sleeper Lake Side Tented Lodge is a beautifully decorated contemporary lodge located on the serene banks of a dam. The open-plan lodge provides a true s…

SHOW MORE

from R 2170 / per-person-per-night-sharing

Bath

Fan

Fridge

Tea & Coffee Station

Private Deck

Hairdryer

Ocean View Honeymoon Lodge

Min 1 guest - max 2 guests

Ocean View Honeymoon Lodge is surrounded by a beautiful indigenous forest which makes it a perfect romantic getaway for honeymooners. The lodge is beautifully d…

SHOW MORE

from R 2905 / per-person-per-night-sharing

Aircon

Bath

En-suite bathroom

Fridge

Mini Bar

Private Deck

Forest View Tented Lodge

Min 1 guest - max 2 guests

The Forest View Tented Lodge offers breathtaking views of the Tsitsikamma Forest from a meandering boardwalk. This private two-sleeper lodge features an open-pl…

SHOW MORE

from R 2350 / per-person-per-night-sharing

Bath

Fan

Fridge

Tea & Coffee Station

Verandah

Outdoor Shower

Stargazing Cube

Min 1 guest - max 2 guests

The Cube, situated in the natural Tsitsikamma forest, is an exclusive stargazing opportunity that offers a unique experience under the African night sky. Nestle…

SHOW MORE

from R 6200 / per-accommodation-per-night

Aircon

Fridge

Tea & Coffee Station

WiFi

Private Deck

Hairdryer

The Dome

Min 1 guest - max 2 guests

The luxury dome is hidden in the forest and offers beautiful views of the Indian Ocean. Guests can relax in the air bed or tub, enjoying the tranquillity of nat…

SHOW MORE

from R 6200 / per-accommodation-per-night

Fridge

Tea & Coffee Station

WiFi

Hairdryer

Toiletries

Television

The Pyramid

Min 1 guest - max 2 guests

Situated within the indigenous Tsitsikamma forest, the unique luxury Pyramid stands 230m above sea level on a dramatic escarpment. Surrounded by nature, it offe…

SHOW MORE

from R 6000 / per-accommodation-per-night

Aircon

Bath

Fridge

Tea & Coffee Station

Verandah

WiFi
What's included
Accommodation
Daily breakfast
Activities at Misty Mountain Reserve
Freshwater Fishing
more info
Canopy Tour
more info
Hiking
more info
Mountain Biking
more info

Quad Biking
more info
How to get there
Plettenberg Bay Airport

Misty Mountain Reserve

Farm 438 Stormsriver, Tsitsikamma, Garden Route, 6308

Check in at Misty Mountain Reserve

14:00 on day of arrival

Check out at Misty Mountain Reserve

10:00 on day of departure
Frequently asked questions
Is there a shuttle service?

What is the weather like in the Tsitsikamma?

How far is Misty from Plettenberg Bay?
R 7,120
/ per accommodation per night
Reviews
M. Scheepers

Stunning sea views our unit! We loved our beautiful stay - the bed was so comfortable and the electric blanket made the cold evenings enjoyable. Loved the big shower. Will definitely be back!

Unique experience

We stayed in the Pyramid and it was a once-in-a-lifetime experience! Such a unique stay with 5-star facilities. We felt as if we were sleeping under the trees, secluded in the forest. The restaurant food was divine and the staff were very friendly and helpful. I would highly recommend this place!

Amazing service and delicious food

I can't wait to go back to Misty Mountain and try the other accommodations! The service was amazing -- very friendly staff. The food was delicious and everything there was beyond beautiful. Definitely one of the best places I have visited in Tsitsikamma.
Misty Mountain Reserve impact highlights
Misty Mountain Reserve in Plettenberg Bay is dedicated to eco-friendly hospitality and sustainable accommodation practices. Their commitment to the environment is evident through their use of low-impact accommodation types, such as wooden structures, canvas tents, and glass pyramid and stargazing rooms. These materials and designs not only blend seamlessly with the natural surroundings but also minimize their ecological footprint. Situated amidst the breathtaking natural beauty of Plettenberg Bay, the reserve actively encourages guests to immerse themselves in nature by offering a range of outdoor activities, including hikes and nature explorations. By doing so, Misty Mountain Reserve not only contributes to the local economy of Plett but also plays a vital role in preserving the pristine Tsitsikamma forest and the surrounding ecosystem for future generations to enjoy.